On July 7th, 2022, a large crowd of School of Business alumni spanning seven decades met to celebrate their common Alma Mater, rekindle old friendships and establish new ones. The event was a comprehensive celebration of being able to socialize in person again after a two-year period of isolation during the Covid-19 pandemic, enjoying the wonderful Woodbury campus atmosphere, and seizing a great networking opportunity.
Alumni who graduated from Woodbury College in Downtown Los Angeles were ecstatic to see the serene location where their old School has been located since the 1980s. Aside from sitting together and enjoying great conversations, many walked around to get to introduce themselves to fellow alumni from different majors and eras. Some alumni had traveled a long way to attend the event and shared fascinating stories with members of the younger generation. The event had several highlights, among which were the announcement of three alumni awards, a silent auction, and gift baskets that were raffled off.
The alumni awards were granted to three remarkable alumni, who made their mark in history through admirable careers and exemplary performance.
The Flamekeeper Award was granted to Mrs. Priscilla Reyes (nee Rabut), who celebrated her 75th graduation anniversary this year. Originally from Hawaii, Priscilla graduated with honors, Phi Beta Kappa, from the Woodbury College School of Business Management in 1947. She was hired by the newly established Torrance Unified School District (TUSD). Her successful career as an Executive Secretary spanned over a 30-year period before retiring in 1987. Mrs. Reyes was always proud of the rigorous and "old school" business education she received at Woodbury and her outstanding skills enabled her to advance and become one of the most respected employees at the TUSD.
The Distinguished Alumnus Award was granted to Mr. Vince Barabba, who graduated from Woodbury in 1954 with a degree in Advertising. Vince retired in 2003 as the general manager of corporate strategy and knowledge development at the General Motors Corporation. He has been appointed to government positions by five presidents: Richard Nixon, Gerald Ford, and James Earl Carter to be Census Bureau Director, and Ronald Reagan and George Herbert Walker Bush to be the US Representative to the Population Commission of the United Nations. Mr. Barabba also served as a member of the 2010 California Citizens Redistricting Commission. He has earned many accolades for his stellar career performance and has written many publications, most recently, Systems Thinking Decision-Making Process…How to Avoid Burnt Toast (Springer, 2022).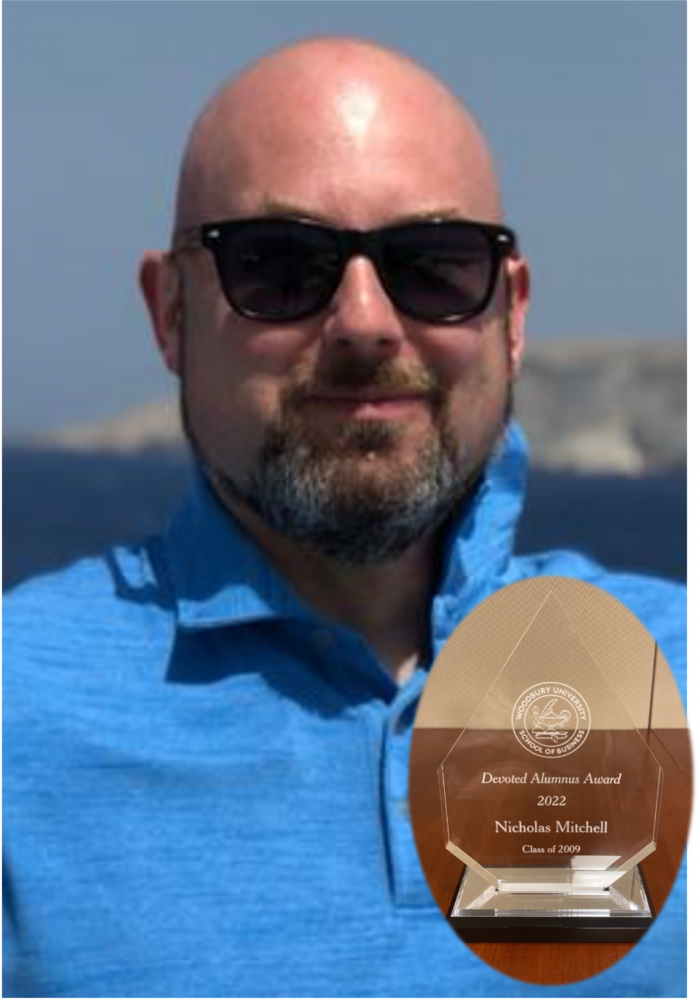 The Devoted Alumnus Award was granted to Mr. Nick Mitchell, who had also provided the keynote speech for the evening. Nick is the Senior Vice President, General Counsel at Logix Federal Credit Union. Nick earned his Bachelor of Science in Business and Management at Woodbury University in 2009, and his Juris Doctorate at Southwestern Law School in 2014. In 2017, he joined our School of Business' Advisory Board, and has since tirelessly assisted in providing our students with career guidance by serving as an Executive in Residence, a facilitator of alumni voices toward improving our performance, a panelist in our Career Development encounter, and basically any other way our School of Business calls on him.
The highly involved School of Business Advisory Board organized a silent auction, with a selection of appealing items such as a private jet flight for six to and from Las Vegas, VIP tickets to prominent baseball games, and several more. There was also a special corner with African Art, that drew great interest amongst the guests. All these efforts were aimed at fundraising for the School of Business' Fund, in order to support our student body, which largely consists of first-generation students from financially challenge backgrounds.
Based on the great enthusiasm with which this event was received, the School of Business' Dean's office and the University's Alumni Affairs department aim to make this an annual event and step up efforts to involve interested alumni more in the School's operations.
Last Updated on July 19th, 2022.