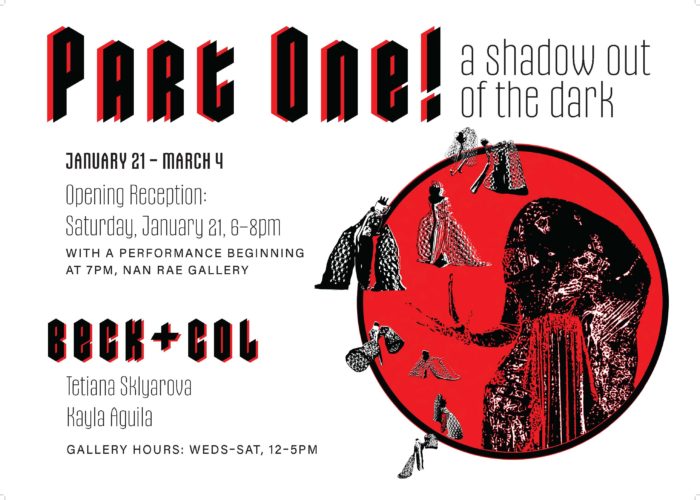 Through costume-based performance and video, Beck+Col build alternate universes that are populated by monsters, spawning a counter mythology and queering of existing norms. Their work is not human-centered. Instead, it privileges the monster, challenging what is/not human. The aggressive colors, ornate monsters and corresponding sets create a hyperreal setting of excess that fosters an overwhelming weirdness.
Beck+Col are a Los Angeles based artist duo who have been working exclusively in collaboration since 2014. Beck+Col have performed at numerous venues including the Hammer Museum, REDCAT, and JOAN Los Angeles. They have had multiple solo exhibitions at Human Resources and their work has been exhibited worldwide including the Royal College of Music in Sweden, Colecci AMALITA in Buenos Aires, and at Biquini WAX EPS in Mexico City.
Combining elements of animation, collage, and sculpture the Nan Rae Gallery is pleased to present the exhibition titled The Waking Dream by Jody Zellen. The artworks in this exhibition speak to our collective cultural zeitgeist of the waning pandemic. Mandated isolation during the initial phase of the pandemic slowly transitioned into the discombobulating ebb and flow of variants combined with shifting health and social protocols. The visual thread throughout Zellen's intriguing approaches to various media is the abstract duality of isolation and community.
Jody Zellen is an artist living in Santa Monica, CA who has been exhibiting nationally and internationally since 1984. She received a BA from Wesleyan University (1983), an MFA from CalArts (1989), and an MPS degree from NYU's Interactive Telecommunications Program (2009). Zellen was the recipient of the 2021, 2016, and 2011 City of Santa Monica Artist Fellowship and a 2012 California Community Foundation Mid Career Fellowship.

"process practice evolution"
organized by Multidisciplinary-Artist Duane Paul
September 11 – October 15, 2022
Nan Rae Gallery at Woodbury University
7500 N. Glenoaks Blvd
Burbank CA 91510
Featuring: Mark Dutcher, Rosalyn Myles, John Parot, Duane Paul
@MarkDutcher
@RosalynMyles
@JohnParot
@duanepaul
@nanrae.gallery
www.laartdocuments.com
The Nan Rae Gallery is pleased to present "here and there " a group exhibition featuring Abstract Paintings by Samuel Erenberg, Pamela Smith Hudson, Vincent Johnson, Carol Kaufman, and Lies Kraal. A digital catalogue featuring artist profiles and essay by Constance Mallinson titled "Why Abstraction Matters" has been produced for this exhibition. This group of artists use abstraction to entice the viewer into a slow patient gaze for reflection and contemplation. Ideally unleashing and empowering the un-realized imagination of the viewer to effect change in producing a better world.
"abstraction's disorientation from a digitalized, near schizophrenic world that offers instantaneous answers and superficial meanings to the pressing issues of contemporary existence. Beckoning us beyond, abstraction promotes necessary free spaces for exercising introspection, imagination, and intuition. And that is seeming more radical everyday"
-Excerpt from Constance Mallinson essay "Why Abstraction Matters".
This exhibition is currently only open to the Woodbury Community of students, faculty, and staff. The artists willingness to participate with COVID protocols that inhibit the public viewing this exhibition is inspiring and the Woodbury Community is deeply grateful.
The Institute For Quantum Music Research is a supergroup of artists led by David Roy (BLACKNASA) featuring Kree Cole-Mclaughlin (Cparqui), Michael Gross and Dakota Higgins (Sticker).
This live experimental music performance was performed inside the Nan Rae Gallery at Woodbury University and was live streamed on Nan Rae Gallery YouTube Channel.
Artists are drawn to questions, and untested hunches. Artists lean into uncertainty, discomfort, and the unknown. Through experimentation and material exploration artists feel the precarity of the world. Art enables us to experience the world with awakened senses, attention, feeling, and thought. 
"Teetered" is an exhibition of new photography, collage, and sculpture that strike a slight balance, extending this moment before collapse. "Teetered" performs the balancing act we do everyday: hope for transformation in the face of despair. The exhibition will include work from Kristofer Heng, Keaton Macon, Coral Saucedo, Justice Whitaker, and Joe Yorty. The exhibition will be accompanied by the publication of Horizontal by Hedirson Delgado and an essay by Allison Noelle Conner 
Organized by OH (Brody Albert and Nathaniel Klein). 
Welcoming the decade with a very special survey, the Nan Rae Gallery will host "Complex Simplicity: A Survey of Paintings and Drawings," curated by David Pagel and showcasing the work of Toon (1936-2016), a revered and influential contemporary artist, and professor at Woodbury. Carolee Toon's distinctive artistic voice is found in her monochromatic, non-objective abstract paintings that on first look appear as exceptionally simplistic but in actuality are profoundly complex. In the work of this engaging contemporary artist, these concepts are not just opposites; they are complementary. Her beautifully crafted, idiosyncratic paintings and drawings with hyper-refined surfaces, expose unique relationships between shape, color, and surface.

"What's More Real Than Flesh is a two-person painting exhibition that pairs recent paintings by Angelenos Victoria Reynolds and Michael Alvarez. Although Reynolds and Alvarez practice very different painting styles and target extremely different subjects, both are drawn to similar situations, the fleshy bodies of animals inhabiting their immediate environment. Reynolds prowls supermarket meat departments and the meat cases of grocery store butchers, while Alvarez strolls through urban milieus in search of intimate scenes from his everyday life.
The Chronic Conundrum is a group exhibition featuring the work of five Los Angeles based artists: Matthew Destefano, Rory Devine, Charlie Engelman, Regina Herod and Joshua Holzmann. The Chronic Conundrum Is organized around the observation of the visceral interconnectedness in approaches to media, process, and image.

Greatest Hits Vol. 1: Highlights from the Fashion Study Collection
Greatest Hits Vol. 1: Highlights from the Fashion Study Collection, a survey fashion exhibition featuring work by important designers of the 20th Century, historically significant garments from the 19th Century, and vintage fashion illustrations by Woodbury alumna Mary Francis Valvo Jacobi.
Woodbury University's Fashion Study Collection is one of the most unique teaching collections of historic costume and designer fashion in Los Angeles, with over 5,000 pieces of clothing ranging from couture to uniforms. This is the first fashion exhibition of its kind to be shown in the Nan Rae Gallery, signifying the vitality of the collection and the ongoing interest in fashion as art, and it offers a special opportunity to see rare garments by designers such as André Courrèges, Roy Halston, Yohji Yamamoto, and many more up close and in great detail.

SENTIENCE
A two-person photography exhibition featuring artists Edward Alfano and Lesley Krane, will be featured at Woodbury's Nan Rae Gallery.

Into Her,
a solo show of paintings by Mary Anna Pomonis
A limited edition poster featuring essays by Doug Harvey
and Annie Wharton, as well as images, are available by request.
Mary Anna Pomonis' airbrush paintings exist where mysticism, abstract painting, geometry and popular culture intersect. Her source materials are quilt squares, sacred painting, geometry, abstract painting, and digital media. Her solo show at Nan Rae Gallery will feature more than twenty works and include two ritual performances during the opening October 14.
Luis Becerra and Michael Gonzalez.
Luis Becerra describes himself as a "political artist and Muralist following in the traditions of Diego Rivera, Jose Clements and David Alfaro Siqueiros". Sculpture, painting, drawing, large scale murals all fall within the sphere of influence within his artmaking. The works in this exhibition are wall mounted abstract sculptures consisting of discards and remnants from various forms of media.   Mr. Becerra has murals in prominent locations within Los Angeles: Arroyo Seco Regional Public Library in Highland Park and at El Pueblo De Los Angeles, (Olvera Street) and in other locations throughout the city.
Michael Gonzalez sculptural "exo-graphs" constructed with grounding braids used in industrial manufacturing reveal the duality between the beauty and horror of the natural world.  Michael Gonzales has had a long and distinguished career as one of Los Angeles most influential artists.Early solo exhibitions at Piezo Electric NY (1986), Thomas Solomon's Garage LA (1988) and Holly Solomon NY (1990) established his work as a critical component to Los Angles emerging importance as a center for contemporary art.
"Hidden Spaces" celebrates the often-unseen places and pauses in a day as they become visible when framed by the photographer. Submissions were open to all camera types, including phones and disposable cameras and students were encouraged to explore and enjoy the action of making photographs through sponsored photo meet ups. Submissions were open to student's campus-wide and works shown are from students studying graphic design, architecture, fashion, business, and interdisciplinary studies.
Group Exhibition of artists from Montreal at the Nan Rae Gallery
Exhibition title: grâce au dessin 
grâce au dessin is a group exhibition focusing on work incorporating drawing and drawing technique in non- traditional ways with respect to notational shorthand, invented personal and visual languages, as well as observational and/or conceptual information leading to – or which is part and parcel of  – other forms of an artist's studio practice like video, installation, sculpture, photography, painting, performance, public art – and 'drawing' per se as the completed result or extension from a set of ideas. The exhibitions cast a far reaching net to assemble fascinating relationships, expand shared conversations and galvanize cultural exchange between contemporary art communities.
The Mortal Machine: Art of Maxine Kim Stussy & Jan Stussy
Curated by Michael Duncan
Exhibition of Brad Killam Paintings, Duane Paul Sculpture
Brad Killam's abstract paintings emphasize surface and color to flirt with ruminations on the natural world. These foreground-centric images keenly use the painterly surface and spontaneous gesture as intuitive guideposts
Duane Paul's work is "concentrated on the fractured, fragmented memories of childhood, strung together and conflated by my adult reflection on past memories and experiences." Paul uses various materials that may include canvas, plaster and wire, in combination with subtle variations of mold-making and hand-constructed assembly.
Duane Paul – Small Moments Video
The Photographic Imaginary Curated By Vincent Johnson
The title of the exhibition is posed as a question to allow for the inquiry into what constitutes the photographic imaginary today. We take the rectangular nature of the photograph as natural, yet it is clearly a formal invention, more precisely, both a framing and editing system of image capture that refers to a window onto the world. The photograph records and perceptually reenacts vision, yet photography can also be used to create a fantasy world. Then there are photographs that appears to have been manipulated but are unedited visual artifacts that the photographer witnessed and captured. In this instance I consider it to be a moment when the world reveals itself beyond its everyday appearances. Mainly, there are often photographs taken that one imagines one has captured until seeing the printed work on a screen. The difference between what one imagined having been captured and what the camera rendered is the space of the photographic imaginary.
Vincent Johnson Spring 2017
The political implications inherent within these projects not only underlie their collective group actions, they also influence each of these three artist's practices outside of their respective collaborations. Through their individual work, they are continually examining larger notions of community via archives, history, language, performance, research, and site-specificity. Considering that we are living in a time tainted by uncertainty on all fronts, all of this material as a whole becomes that much more relevant and vital. The work in Neighborhood Watch will highlight these numerous expressions to promote a cross disciplinary dialogue between the three artists, the general public, and the community of Woodbury University.
Paint Before You Think
John Kilduff
A painter for over 30 years, Kilduff's main focus is plein air painting (painting on location in the landscape). Kilduff's work has been shown at numerous art festivals and galleries across the United States. For over 15 years he has also hosted a "how to paint" cable access show called "Let's Paint TV".
John Kilduff Opening Night Performance
John Kilduff film created by Woodbury University student Brandon Swofford
practice, Practice, practice: Abstract Spirituality in Los Angeles Painting, Sculpture and Performance
Curator Doug Harvey
A group exhibition exploring spirituality through the work of Dina Abdulkarim, Ryan Callis, Linda Day, June Edwards, David McDonald, Rebecca Niederlander, Khang Nguyer, Kenneth Ober, Mary Anna Pomonis, Lorenzo Hurtado Segovia, and Dan Tull.
Graphic Design Student Exhibition
Curators: Behnoush McKay, Cate Roman, Rebekah Albrecht
The annual exhibition of student work showcases the work of the Woodbury Graphic Design department, ranked as one of the top 25 programs nationally by GD USA Magazine. Exhibition highlights include the work of multiple studios including Entertainment, Advertising, Publications, Environmental, Motion Design, Typography, Photography and more.
Star Tracking
Lisa Diane Wedgeworth
Wedgeworth's studio practice is rooted in storytelling. Her work is informed by both private and public, personal and collective memories. She makes paintings that become abstract interpretations of personal and historical experiences and employs video as meditations on memory, identity and relationships.