Middle School students competed regionally to address the theme of climate change through creative STEM projects and innovative problem-solving skills
Each year, the international middle school STEM competition Future City begins with a simple question: How can we make the world a better place? 
On January 21, 2023, Woodbury University was proud to host the participating teams as they attempted to answer that question.
Working with Future City SoCal Regional Coordinator Deborah Orlik, staff and faculty from the Woodbury School of Architecture (WSOA) — including Dean Heather Flood; Arash Soleimani, Chair of Design Computation & Computer Science Media Arts; Activity Director Marina Zakarian; Assistant Professor Echo Theohar; and CS Learning Specialist Victor Casas — welcomed 107 students across 19 teams to Woodbury's Burbank campus to participate in this year's program.
 Working alongside their program leaders and mentors, the promising young students designed futuristic city models that tackle the complex issue of climate change, the theme of this year's Future City competition.
What Is Future City? A Closer Look
Future City is a hands-on cross-curricular educational program designed by professional engineers to bring STEM to life for middle school students in grades 6–8. This program has grown to encompass more than 45,000 students annually in the US, Canada, China, Egypt, and Nigeria — with students, educators, and mentors all working together as a team.
Future City student participants hail from middle schools, homeschool environments, or nationally, regionally, or state-recognized youth-focused organizations, such as the Boy and Girl Scouts, Boys and Girls Clubs, or 4-H. Using the Engineering Design Process (EDP) and project management skills, students gather regionally to showcase their solutions to a citywide sustainability issue.
 Program leaders guide the team members through this project-based learning experience, helping them tackle the issue at hand as they imagine, research, brainstorm, design, and build "cities of the future." The work is entirely student-led, but the program leader keeps the team on track, uploads deliverables, and offers feedback and guidance along the way.
Mentors also act as coaches and role models, share their real-life STEM experiences, offer technical guidance, along with helping to translate academic concepts to the real world of engineering and city design.
 A team of judges scored the team's deliverables, provided feedback, and helped determine the overall winners.
---
SoCal Regional Winners
First Place — Lotus City — This team will go to Washington, DC, in February to compete nationally with other regional winners, with the potential to advance to an international competition.
Second Place — City of Angels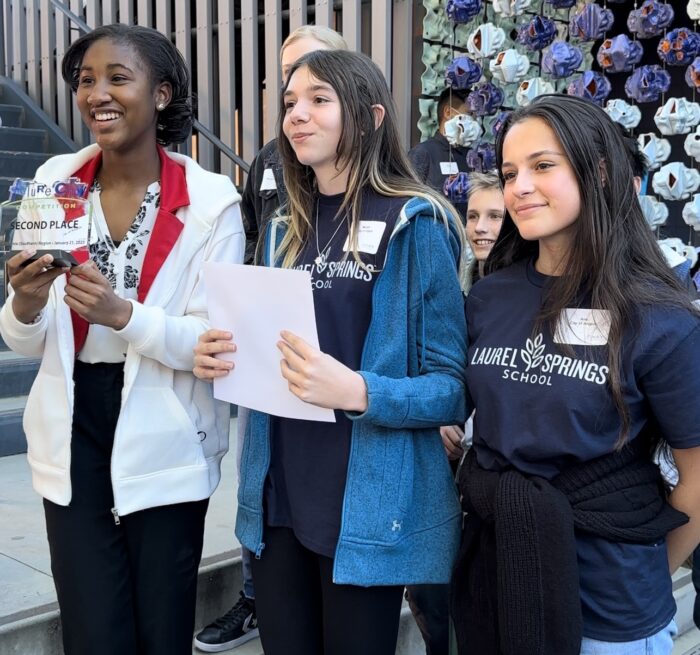 Third Place — Viridis Haven
Best City Design — AEW Spartans — This team received an award certificate sponsored by Woodbury School of Architecture.
---
In reflecting back on the experience, Professor Soleimani says, "The students and parents love coming to campus, and they love looking for faculty mentors in STEM. Next year, we will host a workshop a few months before the event where students will work on their project through mentorship offered by Woodbury faculty."
WSOA Dean Heather Flood says that hosting the Future City Competition has been an overwhelmingly positive experience for the dedicated educators at Woodbury.
"It's been really fascinating to see young people who believe in the power of innovation at the intersection of design and technology," she explains.
"That's exactly what we try to do here — equip people with the skills to inform their imagination through advanced technology. The ideas that our participants are coming up with and the level of commitment they have to improving the world we live in is inspiring and gives me tremendous hope."
Follow WSOA on Instagram to see video clips of this year's participants, learn about next year's competition, and more. 
About Future City
Future City is a program of DiscoverE, a nonprofit organization dedicated to providing global resources, programs, and connections between K-12 students and engineers and STEM professionals — with an emphasis on reaching girls and under-represented and under-served students. DiscoverE is the backbone organization behind some of the earliest and most broadly adopted free STEM and engineering programs available. DiscoverE is supported by generous donors, including the Bechtel Corporation, Bentley Systems, Collins Aerospace, Exxon Mobil, NCEES, Northrop Grumman Foundation, the Overdeck Family Foundation, Project Management Institute, Shell Oil Company, TE Connectivity, and others. Learn more here.
Last Updated on February 8, 2023.