More than 75 years after Geraldine (Gerry) Vork-Hair graduated from Woodbury's Fashion Design and Illustration program, her body of work is ready for its close-up.
To Woodbury's delight, she left behind an extensive collection of documents and illustrations that showcase her incredible talent including vivid 1940s state-of-the-art costume design.  Following her death at 98 in 2019, members of her family found a trove of old school projects and recently donated them to the university.
"My mother's work as a student of Woodbury College circa 1940-41 tells a story similar to that of many women of the era," says her son, Steve Hair. " She often talked about her time at Woodbury, and she hoped to become involved in wardrobe design, in the mold of legendary costume designer Edith Head."
Like so many others during the period, her future plans changed with the start of WWII, when her husband, a medical student at USC, enlisted as a U.S. Army physician.
Born in Minnesota in March 1921, Gerry grew up in Ojai, served as a member of Ventura High's first cheerleading squad. Her talent as a clothing designer blossomed at that time, when she designed the school's cheerleader costumes.  As it happened, her mother was a seamstress for Jack Rose Clothiers in Ventura.
Gerry attended Ventura Junior College before enrolling at Woodbury, where she eventually began work on a "Line and Color" project. Among the donated materials are Illustrations from the project, which includes an array of different clothing styles with detailed instructions on how color, lines and fabric can be used to compliment all body types – artwork reflecting the fashions of that era and all pointing toward career specializing in women's sportswear. She also took business, marketing and journalism classes at Woodbury, which included a marketing project involving a new kitchen counter material called Formica®.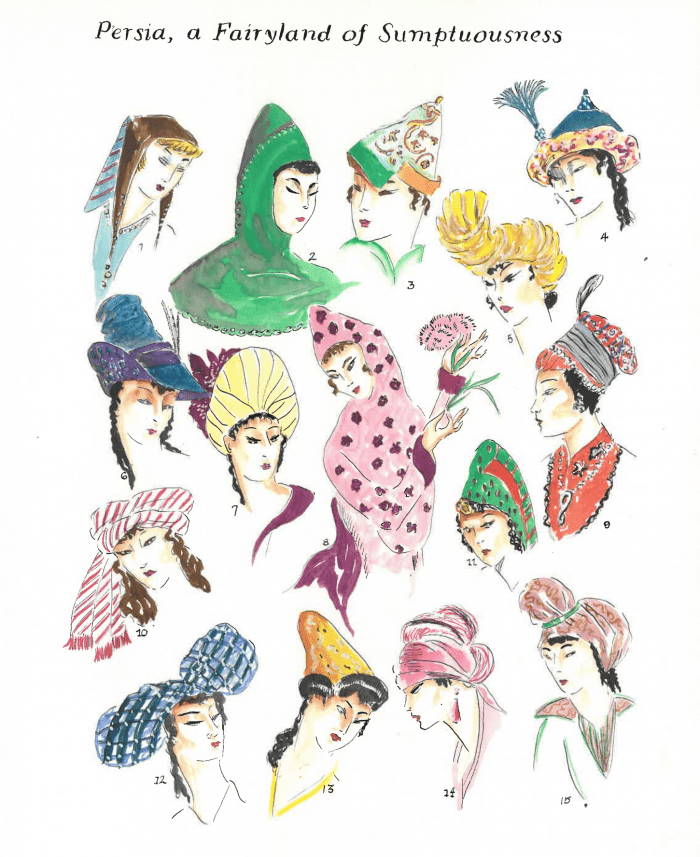 In a letter to California Stylist Magazine after graduation, Gerry noted that she created designs for several shops in downtown Los Angeles, took three courses in the study of ancient design and sold an article, "The Recurrence of Style," to Harpers Bazaar.
"Ms. Hair is definitely part of our history and attended Woodbury not too long after the program began in 1931," says Anna Leiker, Chair, Fashion Design in the School of Media Culture & Design. "We are so grateful for receiving her beautiful illustrations. She deserves recognition for her considerable talent and we hope that, with this donation, her legacy can live on."