Michael Srourian is an alum of the Marketing program (class of 2019). Michael, who comes from a family of entrepreneurs, launched armenia.jpg, an Armenian contemporary art and streetwear brand, in April 2021.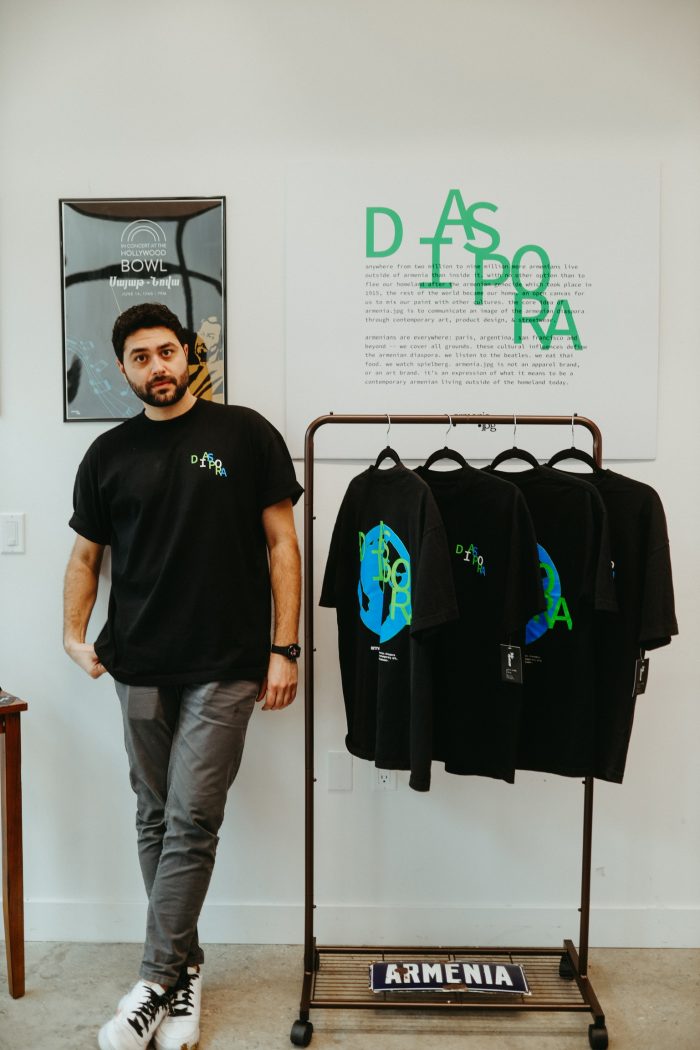 Michael Srourian was studying graphic design at Los Angeles Valley College and working at his brother's marketing and branding agency when he made an important decision. Michael recalls, "I was learning a lot of graphic design at the agency with my brother [and] I was studying graphic design as well at Valley College. I realized switching my major to a Business Management degree in Marketing would be more of a complimentary [choice] for me, because I was already getting experience in design at the agency."
The decision where to continue his business education after Los Angeles Valley College was easy for Michael, whose brother, Armen, received his bachelor's and master's from the Woodbury University School of Business. Michael says, "my brother also went to the School of Business at Woodbury. He really did enjoy his time there, and he did learn a lot and make a lot of great connections. It was a no-brainer for me to apply to Woodbury's Business School after Valley College and start my journey there." 
Once at Woodbury, Michael found the courses he took to be applicable to his own career. As a student in the Marketing program, he noticed that the topics that he was learning were current and relevant to his work at his brother's agency. Michael credits Professor Wendy Bendoni for helping to challenge her students and for teaching her students material that was current. "All of the topics and all of her classes felt very up to date within the marketing industry, especially because I was working with my brother at the agency at the time," says Michael,
"I was getting real-world marketing experience and then going back to school. Seeing those same types of topics reflected in the classroom as well made me feel like the education I was getting was industry-level, industry-standard."  
One of the courses where Michael experienced this was the Digital Storytelling course taught by Professor Bendoni. As part of this course, students had to complete a project showing how to market brands using augmented reality. Michael, who chose Nike as the company he focused on, said the project "really helped me think outside of the box in terms of strategy and in terms of seeing how an established business, [such as] Nike… would strategically bring in augmented reality into their business model." The course also taught him the value of putting a strong presentation together. "Although it was a Digital Storytelling class," Michael reflects, "it was really important to also prepare the presentation in a certain way and apply different visual mockups to the presentation to help bring the idea to life and tell a story that way."  
Beyond the Marketing courses Michael took, he notes that he still utilizes lessons from several of the other courses he took while at Woodbury to this day. For instance, Michael points out that he still uses techniques he learned from a course on negotiations. "I think everything we learned in that class was so to-the-point and important. It was very hands-on," states Michael, "the students were able to actually negotiate with other peers and with our professor… It is something I still think about every day in reference." Beyond the School of Business courses Michael took, he also notes his appreciation for the interdisciplinary aspect of the education he received from Woodbury.
"Other than going into my junior and senior year focusing more on the business classes and marketing classes, I think there were a lot of other interdisciplinary classes that did help me think a bit more outside of the box, such as the Knowledges class that we were required to take, some of the philosophy classes, and [the] ethics classes," Michael says. Michael admits that, while a student at Woodbury, he did not always see the value of these types of classes. However, Michael confesses that, "looking back now, I find that it did help bring a different perspective into the way I think in terms of trying to solve a problem or learning how to critically think."  In addition to the value that he got from his classes, Michael also notes the value of "building a connection with other students that are also very business-minded and have certain goals for the future that they want to accomplish." Michael found this type of environment to be motivating.
"I think, being surrounded in that type of environment where you have other students that are as ambitious as you are really help motivate you to become better," he says. "It is inspiring seeing other students have side projects and businesses that they are trying to start up while they are in class and going to school."  
After graduating, Michael took on a managerial role with his brother Armen's agency. "I was overseeing and running the creative department for the agency. It was a nice milestone for me to achieve to have that type of position after working with the agency for so long. Having the business degree from Woodbury under my belt as well made me feel accomplished," Michael reflects. Having come from an entrepreneurial-minded family himself (both of Michael's brothers and his father are entrepreneurs), Michael says "I naturally wanted to take that next step as well and really see what [ventures] I can start myself."
In April 2021, Michael launched "an Armenian contemporary art and streetwear brand called armenia.jpg." Michael states, "I have released two product lines so far. I have done three, going on four, pop-ups now. I have been able to establish a strong social media and web presence. I have been able to grow my following in the community. That has also led to other opportunities." After starting his own brand, Michael noticed that other brands began to approach him to have him create merchandise for them. "I also saw that as another opportunity, and now I completely do that full-time," Michael says, "I design and produce merchandising for other brands. One thing led to another." 
Michael's advice for any current or prospective student is to "be open to different ideas. Be open to criticism. Be open to learning new things that you might not think you are interested in at that point. You never know when you might reference something or look back at something and where it can lead to." Michael also encourages students to work on building connections with their fellow classmates. "Having a good friend group while you are in school and connecting with as many like-minded people as possible that are as hungry as you really help motivate you while you are in school," says Michael. Finally, Michael encourages any student with an idea for a business of their own to pursue it. "The earlier you start, the earlier you will learn from your mistakes," states Michael, "you [have] to take a dive into different opportunities. It all comes down to opportunities too. When you are young and you are still in school, really try to seize every opportunity you can, because you never know where it can lead you to."  
Last Updated on June 9, 2022.