Born and raised in L.A., Juan attended high school in the San Fernando Valley, where he immersed himself in the school's theater and photography programs — and fell in love with the entertainment business.
While searching for a college, he quickly found that Woodbury University was the only 4-year program for film school that allowed students to work with a camera starting on Day 1. He also appreciated that it was located only 20 minutes from his home.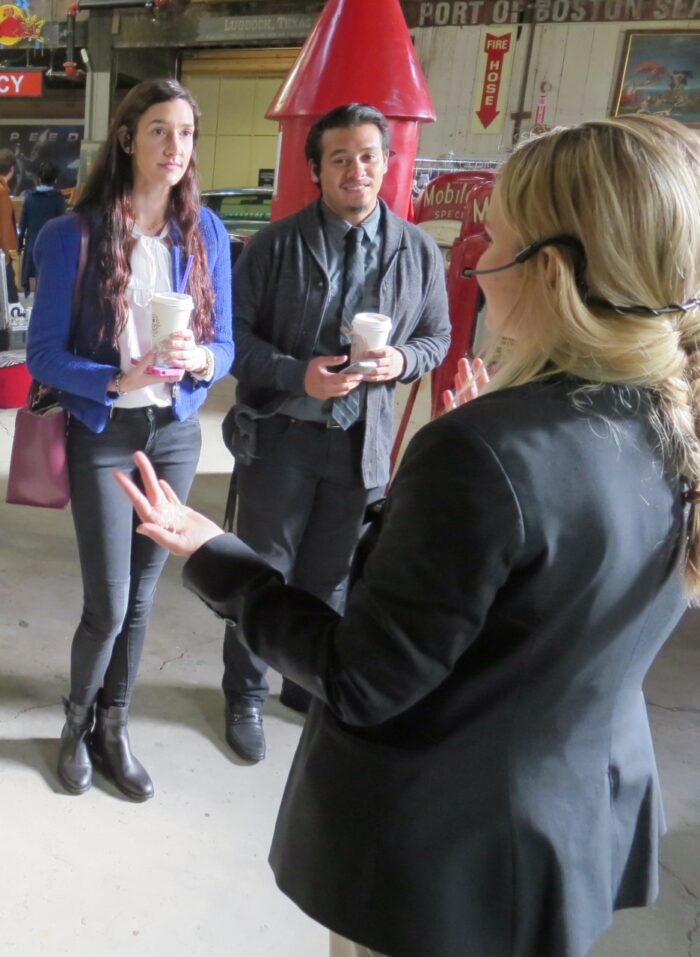 In what Juan calls "extreme fortune in timing," he found a mentor in Woodbury's Chair of Filmmaking, Professor George Larkin, who connected him with an opportunity to work as a page on the Paramount Studios lot.
"I worked as a tour guide, showing guests around and telling them about film and Paramount history," Juan explains. "Next, I moved into a position as an assistant coordinator and eventually, I became assistant to the COO, where I learned a lot about operations and social responsibility."
Since his transition to Paramount's Office of Global Inclusion, Juan has found his passion in building diversity behind the camera.
"I'm ecstatic," he enthuses. "My roles and responsibilities are in diversity, equity, and inclusion. It's very fulfilling to unlock the door and keep it open for new people to come in, and to impact a whole industry that is as influential as entertainment."
The more Juan explores this end of the film business, the more excited he gets about the potential for greater opportunity. "It allows for growth in production even though I'm not on a certain show or movie," he explains. "If there's anything I want to expand into, I can do it in my current role — director programs, artist programs, music showcases, actor showcases. It's been 6 years, and I've only gotten started."
Professor Larkin says Juan has also become a great ambassador at recruiting events for Woodbury, while exposing other students to prospective industry opportunities. "I brought him to Paramount for a visit as a student," he explains. "And now he invites us there and acts as our guide and mentor."
4 QUESTIONS FOR JUAN
1) What or who inspires you?
"My bosses and my team. In every work environment I've been in, I think teamwork and acknowledgment, and pushing to go bigger have been very important. This team has challenged me the most in an extremely positive way, expanding my knowledge in DEI and also how entertainment works. My bosses are very open to new ideas and possibilities. It's inspiring to see how they pass along their knowledge to me and my team."
2) What cool hands-on career experiences did you find at Woodbury?
"One of my internships was being an editor for a YouTube channel on the streaming side before that became really big, and it really gave me a glimpse into what that work schedule was like — after the film was uploaded at the end of each day, I'd work on it overnight to have it ready for the channel in the morning. I also interned at a talent agency, where I learned the process for actors, writers, and directors getting stuff ready to pitch to studios. I helped read scripts coming down the pipeline to see who was the right fit for auditions and meetings. It gave me a good understanding of how everything works."
3) What advice would you share with incoming film students?
"My time at WU allowed me to learn everything. I didn't have to stick to writing, editing, or producing. You become a producer who knows how every department works — I pull from those experiences every day in the office. Really think about what you want to do. Is it film or tv? A specific genre? And then really learn the craft and the business and how it all works so you know what to expect when you get your foot in the door."
4) Anything else you'd like to share?
"Woodbury is a small school. Some may look at that as a negative, but it's a great advantage for creatives. They have so many majors, and as a film student, you can partner with all these different majors and create a compilation piece that works across all the different fields. Being in 10, 12, 15-people classes creates great opportunities — that's a huge advantage compared to somewhere else where you might be one of 300-400 students in an auditorium. There's a great alumni pool that stays in touch, and many come work for us. There are also organizations like student government, etc., that can help with social and interviewing skills that you might not think about in the entertainment industry."
Last Updated on May 15, 2023.