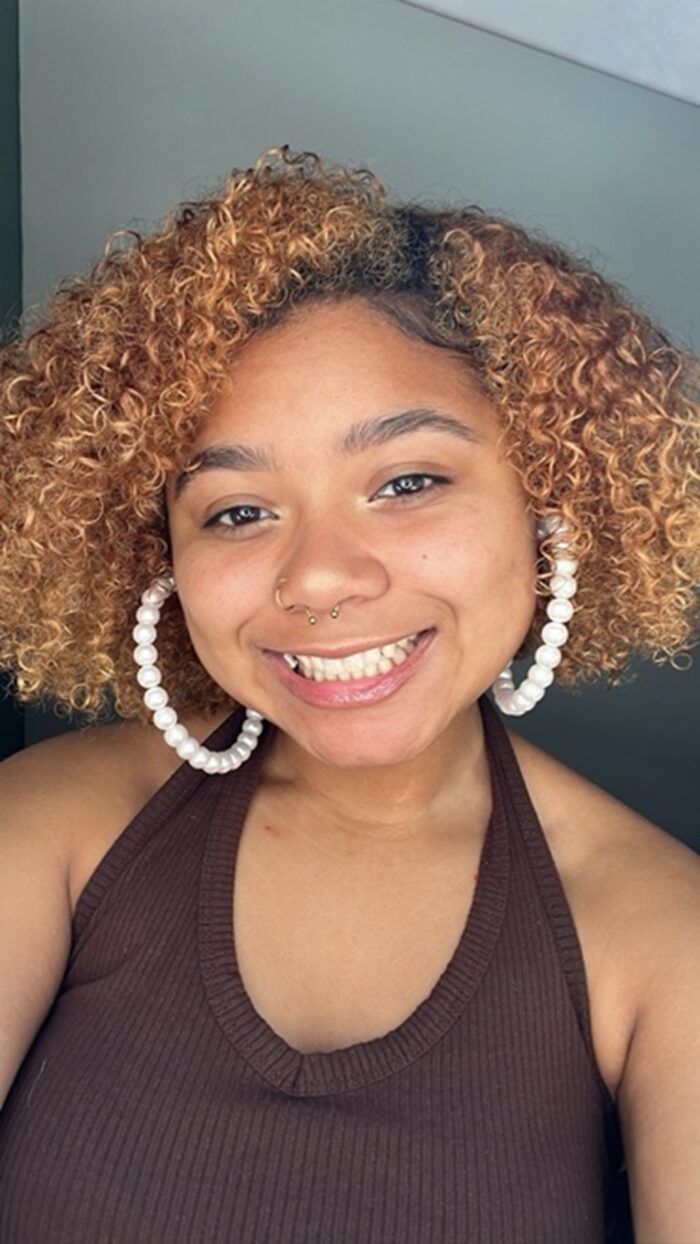 Born and raised in Los Angeles, Jordyn Jackson has lived in the Burbank area since middle school — just around the time she was developing a love for the world of radio.
"When we drove to school every morning, we had the radio on, and the DJ who worked on 92.3 became one of my biggest inspirations," she recalls. "I enjoyed the way he entertained, communicated with different people, and played different music."
Jordyn soon realized that choosing a major related to communications in college was the best path she could take to surround herself with career opportunities in the field of radio. She credits her mother with being instrumental in her decision to attend Woodbury University, largely due to its strong reputation for being a good creative arts school near home — as well as the studios where she wants to work someday.
In spring 2023, Jordyn will complete her BA in Communication (now the Media Studies program), with a minor in Filmmaking that pulls together the audio production and editing end of the radio business and gives her a well-rounded head start in her career of choice. She particularly enjoyed two courses — Intro to Broadcast Media and Radio in the Age of the Internet — taught by Instructor Mark "Frosty" McNeill, the founder of dublab, a non-profit music public broadcasting internet radio station based in Los Angeles.
During her time at Woodbury, Jordyn got hands-on experience working with internet radio and also joined forces with fellow student Antonio Tayborn to produce a music show for the university station WU Radio called "Hit Different". She also completed an internship at iHeart Media/Real 92.3 Los Angeles, where she continues to help with sound production, audio editing, social media — and even saying some occasional lines on a live show!
Jordyn graduated with Honors in spring 2023 and was the recipient of the Student Leadership Award in Communication/Media Studies, as well as a 2023 President's Award.
Jordyn's plans after graduation? She'd like to continue working part-time for iHeart Media and also pursue other opportunities, such as a job as a Production Assistant for Paramount Studios.
3 QUESTIONS FOR JORDYN
1) In retrospect, what stands out for you about Woodbury's Media Studies program (formerly called Communication)?
"I really appreciate the professors I met in this program. They are very open in conversation. Because of them, I picked classes I wouldn't have chosen otherwise and gained a lot more knowledge. When you enter college, in the back of your mind, you think there's going to be a lot of kids and professors who won't want to talk with me, so making those 1:1 connections was really important to me. I also got feedback that will help me in the future."
2) What advice would you share with incoming students?
"Don't be afraid to ask questions. Doing so got me to the point where I'm at now. Also, put yourself first in terms of mental health. When you're in college, it was always work, work, work, and no break. I learned the hard way that you have to take time to take a breath and put your laptop down every so often to enjoy what's around you. I've pulled all-nighters, and it hurt me and my brain. Now, I'm able to put my paper away for a bit. That's helped me a lot. My work ethic is better because I'm able to take it step by step instead of all at once."
3) Anything else you'd like to share?
"I'd like to give a shout-out to (Professor) Michael Sonksen. In freshman year, I was shy in sharing my own work. I used to hate presenting in front of people. I had stage fright, and he pushed me to write more. Whenever he had poetry slams, he called me out to read my poems because he said he really enjoyed them. After that, I felt more comfortable with my own presence. I can speak in front of any crowd now. He's been my best friend and confidence booster at WU."
Last Updated on May 15, 2023.