A Brief interview with Omar Kakar and Jose Parral from Woodbury University San Diego
Introduction: Please share a little about yourself, including your graduation year and program of study.
Hello, my name is Omar Kakar; I think in pictures. I'm a New York-born, SoCal-raised filmmaker and educator. I graduated in 2013 with a professional B.Arch degree from Woodbury University School of Architecture in San Diego, California.
Career Path and Notable Accomplishments: Highlight the career path you have pursued since graduating and any notable accomplishments along the way.
The trajectory of my career path has been focused on visual storytelling in the cinematic arts, primarily directing in dramatic narrative cinema. Since graduating, I co-founded OHMS Architects in California with creative collaborators Hector Aramburo and Miguel Reyes. Together, we exhibited short documentaries and experimental architecture films on Archdaily and at the International Arquiteturas Film Festival Lisboa, among various other art installation screenings.
After transitioning from architecture, I pursued my MFA degree in film as a directing candidate from Columbia University. During my time there, I was awarded the Directing Fellowship and had the opportunity to screen dramatic work at prestigious venues such as the Directors Guild of America, the Lincoln Center for Performing Arts in New York City, and NewFilmmakers Los Angeles. Soon after, I joined the team at Tangible in Brooklyn, New York, working in directing and post-production for commercial media. Meanwhile, I continue to independently pursue my directorial projects in cinema through Cinematecture.

Influence of Woodbury San Diego Education: Describe how your education at Woodbury University San Diego has influenced your career and personal development.
It's fascinating how the littlest, most accidental things can have the biggest consequences in terms of influence over one's development. This is certainly the case for me. During my 2nd-year architecture studio class, I overheard professors talking about how the rock band Pink Floyd formed while in architecture school in London. This shattered my rigid and naive outlook on the discipline of architecture, pushing me to think more abstractly about it. This new perspective altered my perception of almost everything.
My affinity for cinema began to recalibrate to this newfound layer of enhanced sight; it was like having x-ray vision, allowing me to see the invisible architecture in films and in the filmmaking process itself. If, as Goethe said, 'music is liquid architecture' and 'architecture is frozen music,' I think I began to see the third state of matter, the sublimation of gas, where cinema becomes architecture vapor.
Decision to Choose Woodbury San Diego: What factors influenced your decision to select the San Diego campus for your education, and how has that choice impacted your professional journey?
The food. Sometimes my criteria for decisions are reduced to the most basic human terms. I came to San Diego for its great food scene. I believe that embracing innate experiences of simply existing as a human being in the world is a prerequisite for engaging with the world as a professional. Moments like breaking bread with classmates, faculty, and professional colleagues often led to breakthroughs in greater awareness of the philosophy and humanity of our practice, which may not have been achieved in more formal academic settings.
It's the visceral nature of things that I find impactful, learning to trust my gut, even when I've yet to cognitively make sense of it. These feelings, based on instinctive emotional responses rather than considered thought, especially in creative endeavors, have guided me toward enriching developments and elegant solutions in my work, rather than overloading solely on logic. Letting go of attempts to control the process and instead moving with the flow of the process led me to discover that architecture transcends the architect. As a result, I regard intuition as equally important as conscious reasoning when working, impacting my professional process by oscillating between the gut and the mind."
Memorable Experience or Defining Moment: Could you share a memorable experience or defining moment during your time at the university?
There was certainly a pivotal moment during my time at the university that marked my transition from architect to filmmaker. Professor Jose Parral played a significant role in that transformative moment. During the summer before my final year, my "thesis year," Professor Parral happened to see me on campus and pitched the idea of shooting interview videos of the visiting guest lecturers for the upcoming school year. I distinctly recall that I had no interest in taking on this task. I was annoyed by the suggestion of adding more work to an already heavy workload awaiting me. I think he sensed my lack of enthusiasm in my initial response, and then he suggested I think about it.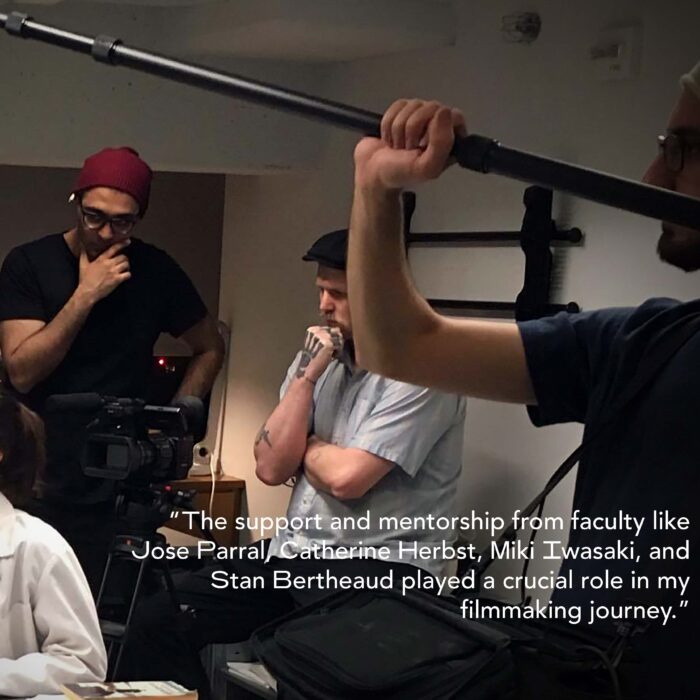 As the summer ended, and the school year began, I was again confronted with this opportunity. So, I had to come clean and express that I had no interest, mainly because I found the interview videos the school had produced in the past to be terrible and incredibly boring. I added that the only way I'd agree to do it was if I could direct it my way, experiment in a cinematic way, without any interference.
Professor Parral and Debra, the school's administrative director, exchanged a glance for a moment, nodded, and turned to me, saying, 'Okay,' 'We've seen your work,' 'We trust you.' I was taken aback. I did not think what I had said would work for them. Looking back, I'm grateful for the faith they had in me at that moment. Being entrusted in this way to create a film according to my own cinematic vision, without being micromanaged or second-guessed, was a first for me and a defining moment in the initial stages of my filmmaking career. This moment extended into a challenging yet rewarding production experience, resulting in what I humbly consider to be the creation of meaningful work.
Influence of Support and Mentorship: How has the support and mentorship from faculty members or alumni influenced your journey?
I have a story. One day, I was sitting alone in the school parking lot. I had stepped outside to get some fresh air and take a break from the rigor of the studio. I was frustrated, sleep-deprived, and generally miserable. On this very day, I had an unexpected encounter with one of the highly skilled and astute practicing architect professors from the master's program. I had never spoken to or interacted with him before, only knowing him from a distance as someone stern with students. To put it simply, I was intimidated by him and certainly did not want to talk to him or even be noticed by him that day.
As he was leaving the building, I noticed him, but before I could stand up to leave, he immediately spotted me sitting against the exterior wall. Without stopping, he smiled with a look of pleasant surprise and said, 'I saw your film!' At the time, I had made a few short films, and I wasn't sure which one he was referring to. What happened next is what I remember most vividly and still hear in my head to this day. He continued aloud, with such enthusiasm and conviction, 'That's your medium! That is your medium!' He stated it like some great proclamation as he walked away, pointing his finger back at me, 'Have the camera in your hands at all times – that's your medium!'
Finally, he turned the corner and was gone. This all happened so suddenly, within seconds. It was an immediate, highly concentrated laser zap of support and mentorship. I had no response; I sat in silence. It shook me that someone could know so much about me without knowing anything about me. I continued to receive these kinds of electric shocks, recharging my enthusiasm, from faculty members like Catherine Herbst, Miki Iwasaki, and Stan Bertheaud, who championed and energized my filmmaking from the very beginning.
Real-World Challenges: Can you share a story or example of how your education at our university prepared you for real-world challenges?
All my real-world examples are lengthy stories of tragedy. Long story short: I keep telling myself to 'save your work,' save it to a hard-drive, then save it to a back-up hard-drive. And after all that, consider a back-up to the back-up. I wish I was joking.
Words of Wisdom: Offer some words of wisdom, lessons learned, or tips for success that you would like to share with current students.
I find that everyone's circumstances are subjectively different, uniquely their own, making it impractical to share words of wisdom objectively in a general setting, especially in such challenging times. I can't help but feel a bit embarrassed whenever I'm asked this question because I still consider myself a student of the craft. Even after formally graduating from academic institutions, I've never switched off the student mindset, nor do I want to. I love my craft and wish to deepen my relationship with it by embracing a habitual state of understanding and engagement.
I humbly consider this ongoing conditioning and way of thinking to have inherent value, significant to one's growth as a filmmaker, architect, or in any professional or creative pursuit, and, above all, vital to one's growth as a human being. As things go, formal schooling eventually ends, but education is for life.
Last Updated: November 6, 2023