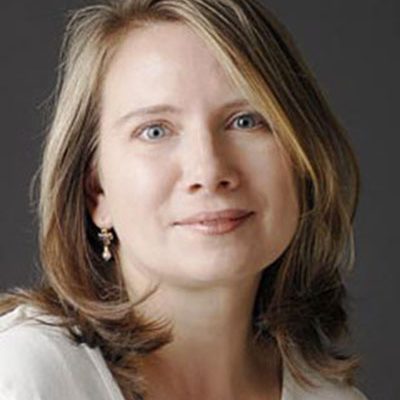 To Anna Leiker, fashion design pedagogy thrives when instruction fully embraces the critical nexus of theory and practice: embracing tech fluency and forward thinking about the sustainability of one's creations.
In her research as well as in academia, Anna herself creates new "smart" fabrics for her designs, explores imaginative methods of reusing them, and weaves those two strands — sustainability and wearable tech — into the fundamentals of the Fashion Design program curriculum.
Not surprisingly, what satisfies her most in her position as chair of the program is keeping an eye on the big picture. Not just in the trends and styles of the fashion world, but in developments and advances in the department's relationship to Woodbury as a whole. She self-identifies as an "advocate for the needs of students" to run a student-centered department and promote the quality of that department by keeping the curriculum competitive.
"In order for students to be ready to join the inherently dynamic fashion industry, are we offering students the best grounding in subjects they will need to master in their careers?" says Anna. "After their time here, will students graduate with the ability to become 'reality-based' fashion designers?"
For Anna, this continuous reality check is a way of ensuring both intellectual rigor and professional relevance. Her service in the business, with the lingerie and swimwear manufacturers Warnaco and Olga, and her 18 years in the Woodbury community, has provided her with practical knowledge of what a beginning designer will face and what tools he or she must have in order to flourish.
"My approach is to link academic and workplace environments for the professional advancement of our students," she says. "I am passionate about emergent roles in fashion design. I foster creative thinking and prepare students to function effectively in the fashion industry and in the information economy."
Anna remains current with a full slate of research projects and digital applications: dye-sublimation digital printing on fabric, laser cutting technology, growing biodegradable fabrics, sewable electronic projects. She also lectures on fashion photography — a special interest of hers. Her upcoming research will incorporate what she calls "a transdisciplinary approach to blending fashion and photography." She recognizes that, increasingly, fashion design technology is inseparable from fashion design itself.
"Fashion is about evolution, constant change and intersection of different art forms and technology," Anna says. "A fashion degree appeals to students with inquiring minds. I want students to adopt fashion as the language to express their vision and communicate a touch of individuality. I want to empower students to take responsibility for their learning, to inspire courage to grow intellectually, cultivate curiosity, clarify values and ignite action."